ChatApps
How Live Chat helps you generate leads and convert customers
By Aly Osama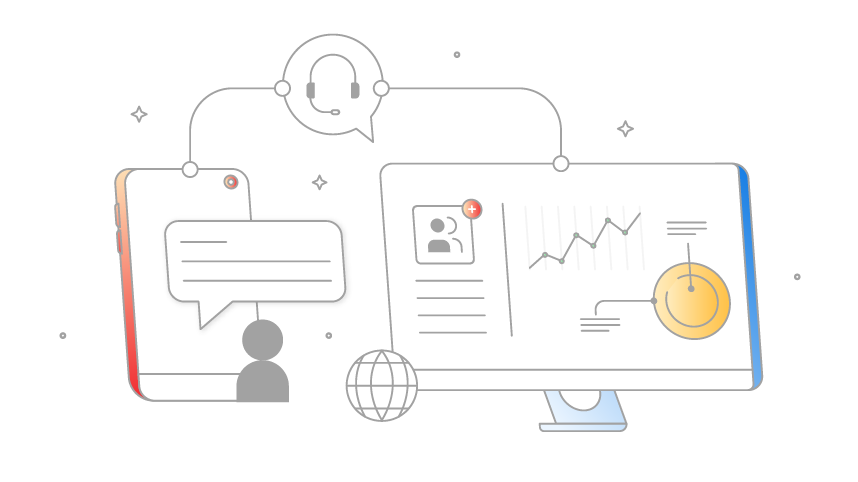 Lead generation is a tedious process. Businesses of all sizes make it their top priority to capture as many leads as possible. Some businesses, especially online ones, struggle with this process, however. Their potential customers always seem to escape and end up buying nothing. Despite numerous efforts to capture these customers' attention, your business may fall short when it comes to converting, closing a deal, or performing a successful transaction. To guarantee more frequent customers and secure loyal ones, live chat engagement might be what you need.
The importance of engaging customers
Customer engagement is a type of positive interaction between businesses and their customers. It is a way of keeping customers consistently attracted so that they remain loyal to the brand. Customer engagement has many benefits such as improved customer relationships, retention, and sales. To boost customer engagement, we must not neglect its direct relationship with lead generation. Lead generation specialists face some common problems. Some of them include:
Insufficient data

Lack of relevant/valuable content

Non-qualified leads
To make sure you get the right attention, you need to identify your audience, target them strategically, and speak to them in their language. In essence, you need to utilize the right tools to create the right content for the right people, and then you need to gather feedback from these people to improve even more. This is where chat comes in.
One of the recent trends in customer behaviors is the reliance on messaging and chat apps such as WhatsApp, Telegram, and Facebook Messenger. The integration of such applications with the customers' buying journey has made customers more willing to purchase products/services, talk to customer support, and engage with brands all through chat. It's also become easier for businesses to reach customers directly and in a personalized manner through chat instead of phone calls and emails. That is why chat is important for lead generation.
How live chat helps
Live chat, true to its name, enables you to talk to your customers in real-time. Examples of live chat are various such as chatbots, web widgets, and messaging apps. Live chat has been proven to positively impact businesses as it leads to:
Better customer engagement

Faster customer support

Stronger customer relationships
Live chat also helps businesses reach their customers where they spend time the most: on their smartphones. There are other benefits of live chat for lead generation, including:
Instant replies:

Live chat is just that – live. Customers who are seeking answers or information can easily reach them on the spot with support agents handling every need.

Customizable templates:

You can set up automatic greetings or a list of FAQs to be presented to your website visitors. You can also automate template replies on WhatsApp or Messenger for example.

24/7 availability:

No agents available? No problem.

Keep your brand awake

day and night with live chatbot deployment. Chatbots are AI-powered conversational tools with the ability to cater to the most complex questions. They can also obtain customer data for future engagement.

Easy feedback:

Ask your customers for service feedback on the spot and receive feedback quickly.
Human touch:

Whether you're using chatbots or chat agents, live chat protects the sacred relationship between you and your customers by allowing you to speak with them in a friendly setting and helping them with the right products/services.
Capturing leads with Live Chat
To get started with live chat for lead generation, you might want to consider installing a web widget on your website's homepage or a specific landing page. Statistics have shown that chat landing pages convert 4x better than traditional landing pages, and 65% of shoppers are more likely to buy from a business they can message. Web widgets can assist your website visitors through quick replies and instant data collection. Don't forget to set up automatic pop-ups that greet your customers so that they notice your chat widget.
To capture more leads through chat, here are a few ideas:
1. Discounts, promotional offers, and other incentives
Nothing moves customers and drives sales better than the sense of urgency that they're going to miss out. The more you understand your customers, the easier it will be to create offers for them that motivate their decision-making.
2. Personalized communication
With live chat, you can ask customers for their information before the conversation begins. That way, you can greet them by name and know exactly which products or services they're interested in, so it becomes easier for them to proceed.
3. Targeting visitors who abandon their carts
Cart abandonment is the sign of a hesitant lead. Do they have questions? Are they waiting for pricing changes? Have they found better alternatives? All these and more are questions that can be answered directly through messaging the customer.
4. Ask visitors for consent to communicate future opportunities
Remember: this is not about closing a deal; it's about capturing the lead. Keep interested customers interested for a while longer by communicating relevant information with them often.
Conclusion
To capture leads, you need to ensure constant customer engagement. And to keep customers engaged, you must provide them with the experience they're looking for. Put yourself in your target persona's shoes and ask yourself if you're willing to communicate with this brand. It is also crucial to ensure that your team is well-prepared to qualify these leads the moment they come.
For more communication tips and principles, visit our blog.
---
About CEQUENS
We're a Communication Platform as a Service (CPaaS) provider. Our mission is to bridge communication gaps in a communication-driven world.
Born in the digital era, CEQUENS was founded in response to the increasing challenges facing enterprise communication. We started as an SMS aggregator and gradually crafted a path toward omnichannel CPaaS solutions.
For more than a decade, our innovation has empowered thousands of businesses to create and deliver communication experiences finetuned to their industries. Our cloud-based, PCI/DSS compliant Communication Platform is the award-winning, end-to-end solution helping businesses realize their full potential and go digital.