CEQUENS Chat, the all-in-one messaging solution for enterprises, is available today for businesses looking to invest in efficient customer engagement solutions. Our conversational platform is built and designed to streamline business communication and refine it for the digital age.
Harnessing a combination between intuitive design and a capable set of features, CEQUENS Chat brings multichannel interactions to a single interface. Users will have the ability to create and deliver customer experiences that extend to any messaging app through one multifaceted platform. The platform supports the most popular messaging channels among consumers – namely WhatsApp, Messenger, Apple Business Chat, Google RCS, and more. It also brings integration capabilities with website chat widgets, making it a well-rounded customer care solution for multiple industries.
Responding to market digital demands
CEQUENS Chat aims to enhance online experiences following the increasing interest in digital solutions in 2020. Data from all over the world illustrates a spike in online activities such as e-commerce, digital payments, and online ordering. This has led to a higher demand of digital services and applications which facilitate these processes and more for the average consumer. For businesses, being able to provide the utmost level of support during and after this shift is a priority. That is why CEQUENS Chat intends to enhance the overall interactive experience for both businesses and their customers.
Key Features of CEQUENS Chat
The hassle-free, end-to-end solution manages the masses of messages that businesses receive every day in one window, increasing efficiency and decreasing disarray. The business's customer care department will be able to manage such high traffic through either live chat engagement or chatbot deployment, which is a main feature our engineers are offering within the platform. Industry-specific scenarios are designed for chatbots to maintain messaging consistency and ensure a non-stop flow of timely responses. This furthermore heightens the experience, resulting in improved levels of customer satisfaction.
CEQUENS Chat also brings access to detailed insights and analyzed reports of every customer conversation for continuous improvement. In addition, the platform is easily integrated with any business's existing systems and databases to get started in no time. With other powerful and smart features such as agent grouping, chat routing, and multilingual support, Chat constitutes a complete solution that helps you converse and convert.
Here is a quick summary of all the available features:
Multichannel integration
Chatbot integration
System management
Automated processes
Reports and analytics
Embedded contact forms
Rich media sharing
Introducing WhatsApp Business Solution
We recently announced a deal with WhatsApp to become a Solution Provider for WhatsApp Business. Small and medium-sized enterprises and large corporations worldwide can utilize the service to showcase products, offer services, and connect with customers. WhatsApp is offered as part of CEQUENS Conversational Platform solution for maximum efficiency. This consolidates CEQUENS' fully fledged omnichannel approach toward digital transformation, and places customer support operations into one cohesive platform.
Through integrating the WhatsApp Business API, CEQUENS will provide businesses with a two-way communication channel with clients that offers multiple engagement mechanisms, such as Templates and Sessions.
Who can make use of CEQUENS Chat?
Businesses across all trades and industries can greatly benefit from a platform such as CEQUENS Chat. The platform is specifically designed with the modern business in mind, assisting small, medium, and large-sized corporations in their journey towards digital transformation and technological adoption. Chat unleashes the full potential of business communication and customer care. Sectors like banking, education, retail, healthcare, and so much more have to deal with customers on an hourly basis. CEQUENS Chat helps consolidate all incoming and outbound communication into one interface for ultimate simplicity, fast access, and extreme efficiency.
Why CEQUENS Chat?
CEQUENS Chat brings together a unique set of features to help businesses fulfill the following objectives:
Increase sales by enabling customer digital onboarding
Understand customer personas through seamless analytic and reporting architecture
Reduce time to market while onboarding new channels of communication
Make use of a highly scalable communication model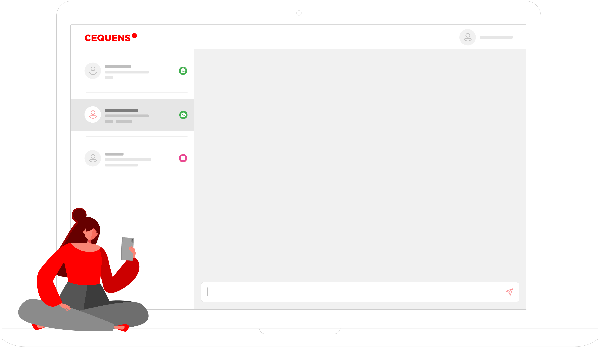 ---
CEQUENS Chat makes for a reliable, all-in-one conversational platform that gives you easy and fast implementation through a secure model designed around personalized experiences for the future of customer support.
Digital age customers are bound to experience the personalized, end-to-end experiences they seek, while businesses can experience a new dimension of availability with CEQUENS Chat. To learn more about the product or how we can help, contact our Sales team.
*Get CEQUENS Chat for 3 free months if you register before January 31, 2021. The offer includes unlimited chat agent seats with no setup fees, in addition to free registration for WhatsApp Business and optional chatbot deployment.