CEQUENS News
CEQUENS turns 10: Award-winning CPaaS provider celebrates 10th anniversary
By CEQUENS Team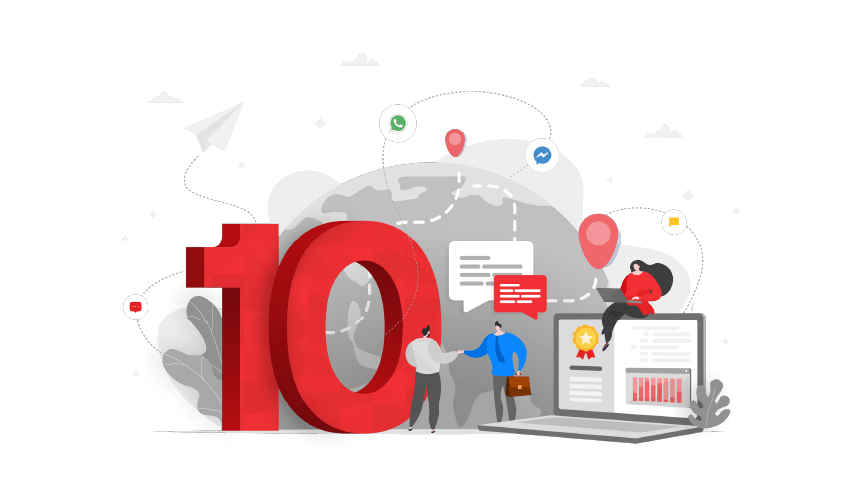 Founded by Karim Khorshed and Ahmed Shabrawy in 2011, CEQUENS started out as an SMS aggregator and has grown to become an innovative player in the global CPaaS market. The company's proprietary Communication Platform leverages the latest cloud technologies and features a comprehensive portfolio of multichannel products and solutions that are industry-focused, agile, scalable, and cost-effective.
With boots on ground in Egypt, Pakistan, Morocco, Jordan, Kuwait, Saudi Arabia, United Kingdom, and the United Arab Emirates, CEQUENS operates as a hub for the global market's growing needs amid the digital revolution. Some of the company's current portfolio offerings include Communication APIs, WhatsApp Business Platform, and CEQUENS Chat.
Following a journey of successes and challenges, January 2021 marks the tenth anniversary of CEQUENS. The company retains a team of 150+ employees, whose innovation has empowered thousands of businesses to create and deliver communication experiences finetuned to their industries.
"The ecosystem on which our business is built is indebted to our loyal customers who place their trust in our brand," says Karim Khorshed, Co-founder and CEO. "For us to maintain our innovative aspect, we must also extend our gratitude to our partners, suppliers, and entire family of employees across the world." Mr. Khorshed, whose vision has served the company for 10 years, feels thankful for the journey and everything he has learned along the way.
10 major milestones and achievements
CEQUENS has achieved many milestones through the hard work and dedication of every team member during this decade. Product innovation and service efficiencies have served thousands of clients and empowered their business communication needs. Our list of international customers includes Viber, Telegram, IKEA, Aramex, Vodafone, and more. The company also managed, by the team's efforts, to partake in many global and local industry events, such as Mobile World Congress (MWC), GSMA RCS Lab – which CEQUENS hosted in 2018 –, TAD Summit, Cairo ICT, IDC CIO Summit in Saudi Arabia, RiseUp Summit, Capacity, and more.
Below is a look at the company's historical timeline of major achievements.
1. Al Rajhi Bank becomes CEQUENS's first international banking customer (2013)
2. CEQUENS expands operations to the UK and UAE (2015)
3. Evolving from SMS aggregator to CPaaS provider (2016)
4. CEQUENS hits 100+ direct connections with global operators (2017)
5. Receiving 'Excellence in Messaging' award at FINSEC Banking Security Summit (2018)
6. Partnering with GSMA to introduce Google RCS to MEA region (2018)
7. CEO selected to join the Endeavor network of high-impact entrepreneurs (2019)
8. Hosting a series of Amazon Web Services (AWS) meetups (2020)
9. WhatsApp enlists CEQUENS as WhatsApp Business Solution Provider (2020)
10. CEQUENS receives "Most Innovative Communication Platform" Technology Award 2020 by International Finance Magazine (2020)
Introducing CEQUENS Chat – a multichannel conversational platform for the future
In commemoration of the company's 10th anniversary, CEQUENS unveiled CEQUENS Chat, an all-in-one digital communication solution for various business sectors. Chat is a conversational platform, built and designed to streamline business communication and refine it for the digital age.
Harnessing a combination between intuitive design and a capable set of features, CEQUENS Chat brings multichannel interactions to a single interface. Users will have the ability to create and deliver customer experiences that extend and integrate with many messaging apps through one multifaceted platform. The platform supports the most popular messaging channels among consumers – namely WhatsApp Business, Facebook Messenger, Apple Business Chat, Google Chat, and more. It also brings integration capabilities with website chat widgets, making it a well-rounded communication solution for multiple industries.
CEQUENS Chat makes for a reliable, all-in-one conversational platform that gives you easy and fast implementation through a secure model designed around personalized experiences for the future of customer support. Digital age customers are bound to experience the personalized, end-to-end experiences they seek, while businesses can experience a new dimension of availability.
10 pearls of wisdom and hopes for the future
The future of CEQUENS is promising, with plans to invest and expand in emerging markets and be the first to introduce CPaaS where it's needed most, such as Asia-Pacific, Latin America, and the remainder of the MEA region – with the company doubling down its efforts on digital solutions for prominent sectors, namely fintech, healthcare, retail, and ecommerce. Here is what our leaders and teams have to say regarding this milestone.
Karim Khorshed, Chief Executive Officer
"Ten years is a prominent event to celebrate. Recent global circumstances like COVID-19 have proven that our reliance on technology is inevitable, and accelerated the need for companies to adapt to digital transformation. We are at a point where we must expand our progress in order to raise the standards and continue to elevate our customers' valuable successes."
Ahmed Shabrawy, Co-founder
"I am very impressed to see CEQUENS not only growing rapidly but also growing younger. 10 years have passed and we are still developing and maintaining the startup spirit we began with. It makes me so proud."
Hania Tolba, VP, Global Accounts and Partnership
"The team at CEQUENS has always proven themselves immune to obstacles. I look forward to witnessing 10 more years of the hard work and dedication that has led us here. Our future looks even brighter with the hard work and dedication of CEQUENS's people, and we can rest assured that together we will go further places."
Wael Ali, Chief Commercial Officer
"Our role is to empower businesses through combining the future technology with a viable and intelligible vision. Therefore, we aim to expand our worldwide business operations to establish ourselves as a market leader when it comes to CPaaS industry, and an all-around thought leader whose efforts propel digital transformation for our customers and partners."
Mohamed Dash, General Counsel, Legal and Corporate Affairs
"All these changes over the last 10 years came with great efforts, resulting in CEQUENS being recognized in the global communications market as a professional company, which drives its business through knowledge, expertise, and hard work, focusing on customer service that is driven by sustainable approach. As we look ahead into the next decade, we stand prepared to make this company stronger by finding solutions to the challenges of our industries and making sure that we overcome any global health crisis in good shape. CEQUENS is ready to lead the industry in a way not demonstrated before. I am looking forward to this future and working with the entire team, as we collectively continue to defy the odds. Happy 10 years, CEQUENS."
Customer and Service Support Team
"CEQUENS is an enriching journey, where self-development is a key driver. It is not only about results; it is discovering our people have become a main pillar of success. Shifting our mindset is a key element to reach our goals. We work on building sustainable operations and support, and we are still reaching for more improvements to grow even stronger through continuously challenging the status quo with a keen eye on value. We make every interaction count. We listen to our customers' needs and do our absolute best to make sure they are satisfied. Our real success comes from their comfort."
Product Management Team
"2021 and the future in general are presenting us with the opportunity to really transform our platform into a competing player. And we would love to see that happen and play our part. What we appreciate most about CEQUENS is that we stood the test of time together and fortified our culture. The real profits we make are this team and the organizational capacity of the company."
Marketing and Communications Team
"Our solid vision and agile mindset over the past 10 years has put us on the global map as a major player, and we consider it a privilege to be a part of such a dynamic team with huge potential, where the sky is our limit and the word 'impossible' is not in our dictionary."
Sales and Business Development Team
"It's always fun to work with different squads and see our progress being appreciated and our culture being implemented. All CEQUENS employees share a common set of values and behaviors which constitute our cultural framework. We work together as a team to better serve our customers so that they see a company that is customer obsessed, innovation hungry, ambitious, and competitive."
Engineering Team
"We never settle for less than delivering a state-of-the-art solution. We think of ourselves as a band of 'imagin-eers' not just engineers. CEQUENS then is not an office or a set of products; it is all about people… it is all about us. It's as good as we are, and we are just warming up."
We design pioneering communication solutions and calibrate them for the digital age. Our platforms are carefully constructed from the ground up to accommodate your digital transformation needs. We believe all things digital should be all-inclusive. That's why we build smarter products that bridge all gaps. Everything under our brand is primarily built to improve communication with the highest security at lower costs. To find out more, contact us.
---
About CEQUENS
We're a Communication Platform as a Service (CPaaS) provider. Our mission is to bridge communication gaps in a communication-driven world.
Born in the digital era, CEQUENS was founded in response to the increasing challenges facing enterprise communication. We started as an SMS aggregator and gradually crafted a path toward omnichannel CPaaS solutions.
For 10 years, our innovation has empowered thousands of businesses create and deliver communication experiences finetuned to their industries. Our cloud-based, PCI/DSS compliant Communication Platform is the award-winning, end-to-end solution helping businesses realize their full potential and go digital.
As an Endeavor Entrepreneur and industry player, CEQUENS plays a pivotal role in transforming business communication worldwide.
For more news