Cequens made a remarkable appearance at TAD Summit 2018 to showcase its transformational journey from an SMS Aggregator to a CPaaS Provider. Cequens former VP of Products, Karim Zaki, gave a keynote speech at TAD Summit in Lisbon, Portugal, where he shared our story and its strides to enable digital transformation in the Middle East and Africa.
During his keynote speech, Zaki, said "It's been an honor to be on the TAD Summit stage, among the programmable telecom's top leaders and seasoned visionaries. The CPaaS landscape is continuously evolving and we're happy to be bringing MEA's perspective into focus and sharing our vision for the region's future."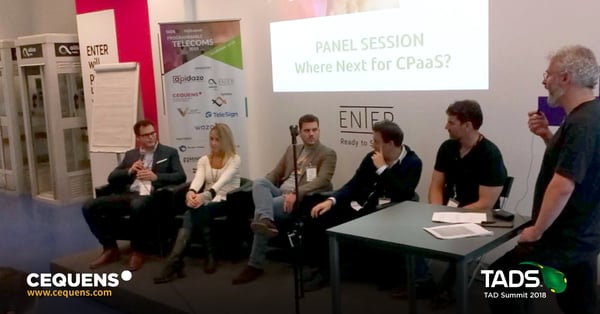 Through the "Where Next for CPaaS" discussion panel, we shared the company's perspective of future communication in the region. Traversing the road of CPaaS in the region has been a bumpy one – with many hurdles ranging from resistance to change, turbulent events in the Middle East, regulations, and persuading businesses it's safe to go cloud.
Watch Cequens Keynote: Road to CPaaS Enablement in the MEA Region.
---
About TAD Summit
TADSummit brings together the industry's top players to share world-class insights and hard-won experiences. TADSummit is the sister event of TADHack, and usually focuses on the opportunities made possible by programmable telecoms.
About CEQUENS
We're a leading Communication Platform as a Service (CPaaS) provider in the Middle East and Africa (MEA) region that aims to bridge communication gaps in a communication-driven world.
Powered by innovation and guided by a Cloud-First and Mobile-First approach, we provide omnichannel communication APIs that enable enterprises and developers to communicate with their customer base worldwide.
As an Endeavor and GSMA Associate Member , CEQUENS plays a pivotal role in transforming communication in the region.
CEQUENS proprietary, PCI/DSS compliant Communication Platform leverages the latest cloud technologies and features a comprehensive portfolio of products and solutions that are industry-focused, agile, scalable, and cost-effective.