Setting the stage for our technology enthusiasts to share their knowledge and expertise about cloud communications and business messaging, CEQUENS has started to host a series of meetups for the AWS Egypt – Facebook User Group in Cairo.
"Topics related to AWS Cloud, CI/CD, serverless architectures, and web development have become of high interest to Software Engineers who are kicking-off their careers," Ahmed Ayoub, Interim-Head of Engineering, stated. "It was quite essential for CEQUENS to contribute in such a valuable event, as we take pride in pioneering the global cloud business communication industry," he added.
The first event was held in December 2019, as we started with an introduction about CEQUENS and how it all began. Presented by Horeya Mostafa, our AWS Certified Engineering Manager, she showcased the capabilities and services that we offer, and how we managed to help businesses streamline their communication solutions, while reducing operational costs.
Later, Hussein El-Sayed, Engineering Manager, spoke about our culture and how we have recently begun implementing a scaled agile model – inspired by the Spotify experience. He also discussed how our Engineering team practices the agile methodology to manage short cycles of feedback, and the reasons behind choosing Amazon Web Services (AWS) to elevate our cloud-based Communication Platform.
Meanwhile, Ahmed Metwally, Solutions Architect and Co-Founder of the #AWSEgypt group, opened his talk by expressing his excitement, "I've been wishing for this meetup to happen for as long as I can remember. I am very proud of how we managed to bring you all together today in such short period of time." Ahmed introduced the AWS Lambda; a server-less computing platform, while providing details on how using it can be more efficient for managing resources and specific code requirements.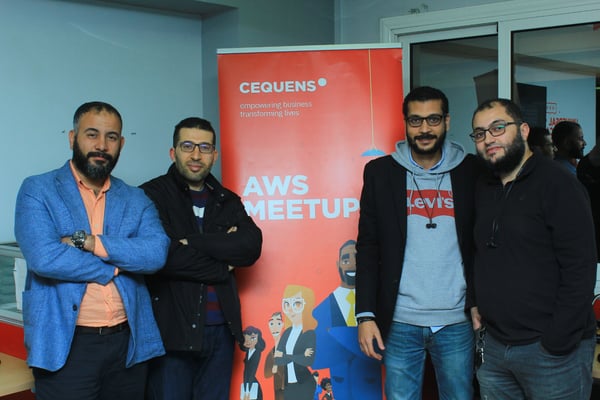 The meetup was a great success, as Ahmed Shendi, AWS Certified Expert, delivered the final talk by describing what EC2 is, how it is fundamentally built to provide secure, scalable computing capacity for the cloud, and demonstrating ways of deploying applications without hardware constraints.
"Building and manually deploying containerized services is a slow process and can allow too many errors. Continuous delivery with automated build-and-test mechanisms helps detect errors earlier, saves time, and reduces failures, making this method a popular model for application deployments. Now it has become easier to set up a continuous delivery pipeline, using the AWS Developer Tools for CI/CD," commented Ahmed Shendi.
For more information about the upcoming AWS Egypt Meetups and to get notified of our live coverage, follow our Facebook or Instagram pages.
---
About AWS
In 2006, Amazon Web Services (AWS) began offering IT infrastructure services to businesses in the form of web services, now commonly known as cloud computing. One of the key benefits of cloud computing is the opportunity to replace up-front capital infrastructure expenses with low variable costs that scale with your business.
With the Cloud, businesses no longer need to plan for and procure servers and other IT infrastructure weeks or months in advance. Instead, they can instantly spin up hundreds or thousands of servers in minutes and deliver results faster.
Today, Amazon Web Services provides a highly reliable, scalable, and low-cost infrastructure platform in the cloud that powers hundreds of thousands of businesses in 190 countries around the world.
About
CEQUENS
We're a leading Communication Platform as a Service (CPaaS) provider in the Middle East and Africa (MEA) region that aims to bridge communication gaps in a communication-driven world.
Powered by innovation and guided by a Cloud-First and Mobile-First approach, we provide omnichannel communication APIs that enable enterprises and developers to communicate with their customer base worldwide.
As an Endeavor and GSMA Associate Member and ISO-Certified company, CEQUENS plays a pivotal role in transforming business communication in the region.
CEQUENS proprietary, PCI/DSS compliant Communication Platform leverages the latest cloud technologies and features a comprehensive portfolio of services that are industry-focused, agile, scalable, and cost-effective.
---
Interested to join our team?