What are Communication APIs and why are they needed?
By CEQUENS Team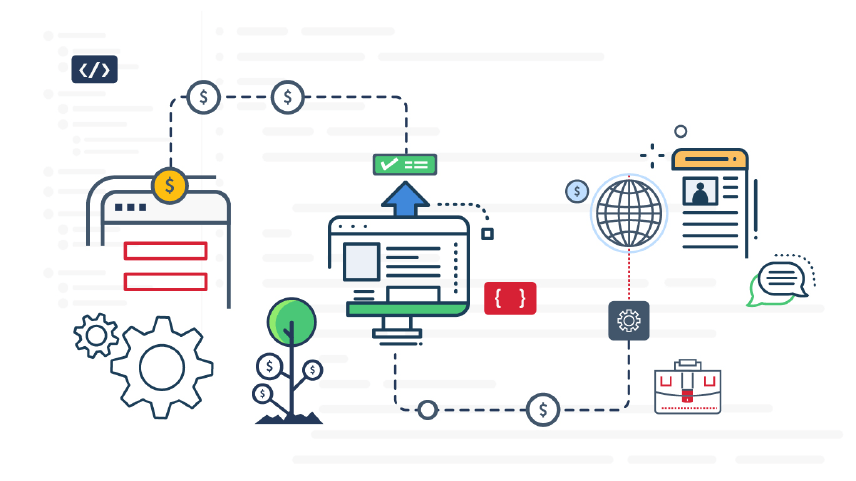 Companies of all sizes are rapidly embracing APIs in their business processes. This is because, without them, every enterprise system will become almost custom, time-intensive, and expensive.
The same rules apply within the enterprise communication space. With the communication technology available today, companies need to be well-placed to leverage cutting-edge omnichannel communication tools to boost productivity, streamline workflows, and collaborate efficiently.
A Brief History of Enterprise Communications
For decades, enterprises across the globe depended on traditional telephone sets to manage their communication needs through a Public Switched Telephone Network. While this approach was rewarding and highly reliable, it wasn't necessarily the most effective.
Fast forward to a few years later, and companies switched to Private Branch Exchange. This communication model helped to connect staff to countless extensions and leveraged phone conferencing capabilities.
Then came Voice over IP (VoIP) which disrupted the telecommunications industry with highly cost-effective global communication solutions.
However, in the fourth industrial revolution, digitally transformed businesses need more than voice. They need seamless access to video conferencing, complete collaboration tools, instant messaging, two-way SMS, number discovery, and more.
To achieve enterprise agility and seamless communication across a variety of channels, the Communication-Platform-as-a-Service (CPaaS) model was born. This cloud-based approach is powered by Application-Programming Interfaces or APIs.
What is an API?
An API can be described as a set of programming standards and instructions for web-based applications and tools. Whenever a leading software company releases an API to the public, it empowers developers to design products that are powered by its service.
An API can also be described as a software to software interface that doesn't demand human intervention. Unlike front-end facing user interfaces, APIs function behind the scenes in the backend and are unseen.
APIs enable seamless integration with multiple tools. So the end-user will never notice software functions being handed over from one platform to another.
What are Communications APIs?
Communication APIs, like the term sounds, are APIs built for the communications space. They establish a standardized syntax and methods of communication.
In other words, Communication APIs define rules of what interactions are possible between servers and communication applications. They also function as the communication layer between applications and databases.
This approach helps enterprises manipulate data securely and quickly. It also dictates how data should be formatted for rapid exchange.
For example, you can integrate Communication APIs into existing enterprise software. For the end-user, this means having complete control over multiple communications tools in one solution.
Enterprises that adopt this approach will benefit from enhanced productivity, streamlined workflows, and the ability to keep improving operations by leveraging data and analytics.
Some of the Communication APIs available today are as follows:
SMS API
Two-Way SMS API
SIP Trunking
Number Discovery
SMS API
SMS APIs can be integrated with several different types of software. For example, you can embed it in your marketing platform to send large volumes of text messages to millions of users in the MEA region.
You can also track the success of your campaigns by connecting it to your big data and analytics application. This approach can be scaled up or down depending on present needs, cost-effectively.
Key advantages of implementing SMS APIs:
Broadcast messages in the user's preferred language
Ensure that messages were delivered on intelligent primary routs
Leverage live Home, Location, Register (HLR) lookup
Verify the quality of delivery (of your messages)
Two-Way SMS API
For years, when businesses sent a text message to an individual, it was usually restricted to one-way communication (from the company to the person). From a marketing perspective, this is not always the most effective method.
Two-Way SMS breaks down this barrier and helps brands engage in SMS conversations with their customers in real-time. To achieve this, companies have to obtain a long code or short code phone number that can be dedicated exclusively for this activity.
Two-Way SMS APIs can also be integrated by medical practices within their appointment scheduling software. This approach will help staff SMS patients to confirm appointments. Whenever they respond stating that they can't keep an appointment, the system can automatically message them back with a list of alternate dates and times.
Like SMS APIs, Two-Way SMS APIs also come with the benefit of broadcasting large volumes of text messages in the customer's preferred language, the ability to scale up or down, and verification of the quality of delivery.
However, Two-Way SMS can do so much more. For example, you can create dynamic automated responses that can be triggered by a predefined set of keywords. You can also engage in opt-in tracking and leverage delivery reports to ascertain the success of each campaign.
Key benefits of Two-Way SMS APIs:
Easy access to customers who have opted to receive SMS
Low cost with high conversion and ROI
Immediate direct message delivery
Seamless integration with CRM platforms
Schedule and automate marketing campaigns
SIP Trunking API
Sip Trunk can be described as a virtual phone line which enables businesses to connect with their customers around the world, cost-effectively. With this approach, you'll only pay for the voice connectivity you have used.
It's a lot cheaper because there aren't any physical lines involved that need to be maintained. As a result, it's considerably less expensive than your traditional phone service.
Key benefits of deploying SIP trunking:
Call forwarding within the building or to international offices
Call recording to ensure quality control
High performance
Location-based call routing to ensure high-quality communication
Number-masking for customer protection
OTP fallback guaranteed backup channel for SMSs
Real-time quality monitoring
Number Discovery API (Number Lookup)
Number discovery, otherwise known as number lookup, is a service that provides real-time insight on phone numbers by querying a central database. The intelligence provided includes the validity and status of the phone number, the country and mobile network the number is associated with, as well as portability and roaming information.
Before the emergence of Number Discover APIs, companies had to expend a lot of time and resources to validate mobile numbers. Today, Number Discovery APIs that are supported by direct SS7 partnerships can be used to reduce the number of undelivered messages.
It helps businesses manage their marketing budgets effectively by checking the validity and operational status of mobile numbers before connecting customers. When the numbers are verified, texts can be delivered rapidly, securely, and reliably.
When every text is delivered with little to no-delay, companies can also ensure that they aren't wasting their promotional resources.
Key benefits of integrating a Number Discovery API:
Automated database cleaning
Boost delivery rates
Cut Costs
Enhanced quality
Fraud prevention
Why Do Businesses Need Them?
Enterprises engage in extensive internal and external communication. Solutions like SIP trunking help keep costs down. The same applies to Two-Way SMSs and Number Discovery APIs as they enable companies to engage in marketing activities without dissipating their promotional budgets.
All these Communication APIs can be integrated into a single existing solution, cost-effectively. When businesses adopt this approach, they can enjoy improved productivity, streamlined workflows, enhanced collaboration, and more.
Unlike traditional communications solutions, CPaaS is quickly becoming the go-to technology for companies that want to take a DIY approach to communication and collaboration.
With the abundance of communication APIs, it allows end-users to mix and match features to a single solution and effectively meet their business demands.
---
CEQUENS Can Help
We're leading Communication Platform as a Service ( CPaaS ) provider in the Middle East and Africa (MEA) region that aims to bridge communication gaps in a communication-driven world.
Powered by innovation and guided by a Cloud-First and Mobile-First approach, we provide omnichannel communication APIs that enable enterprises and developers to communicate with their customer base worldwide.
As an Endeavor Entrepreneur and GSMA associate member, CEQUENS plays a pivotal role in transforming communication in the region.
CEQUENS proprietary, PCI/DSS compliant Communication Platform leverages the latest cloud technologies and features a comprehensive portfolio of products and solutions that are industry-focused, agile, scalable, and cost-effective.