According to a recent PwC report on banking markets, the Middle East and Africa (MEA) area has been identified as an emerging market set for exponential growth within the banking sector. Moreover, in order to stay competitive on the global scale, banks of today must learn to embrace a more forward-thinking model. Nevertheless, our rigid, relatively antiquated banking system is not exactly a hotbed for innovation.
Therefore, not only will banks need to make some changes to invite this much needed innovation, but developed executives will also need to become more flexible and open to cutting-edge methods. Either way, by focusing on emerging markets, there is vast potential for growth, especially if the banking system embraces the need for more creative methods beforehand.
Emerging markets: areas of innovation
Based on the report published by PwC on retail banking, some interesting conclusions can be reached. Emerging markets are a potential source for exponential growth. In particular, the Middle Eastern markets have the propensity to provide American banks with a vast array of opportunities. Nevertheless, crisis and opportunity are often synonymous and while many view these markets as a great opportunity for growth, others simply view them as a serious threat.
Either way, based on the survey used to create the report, banking executives in emerging markets are focusing on making innovations to their core platform above all (67%). However, the need to make innovations to customer needs identification (64%), customer interfaces (65%), and products (64%) are not too far behind.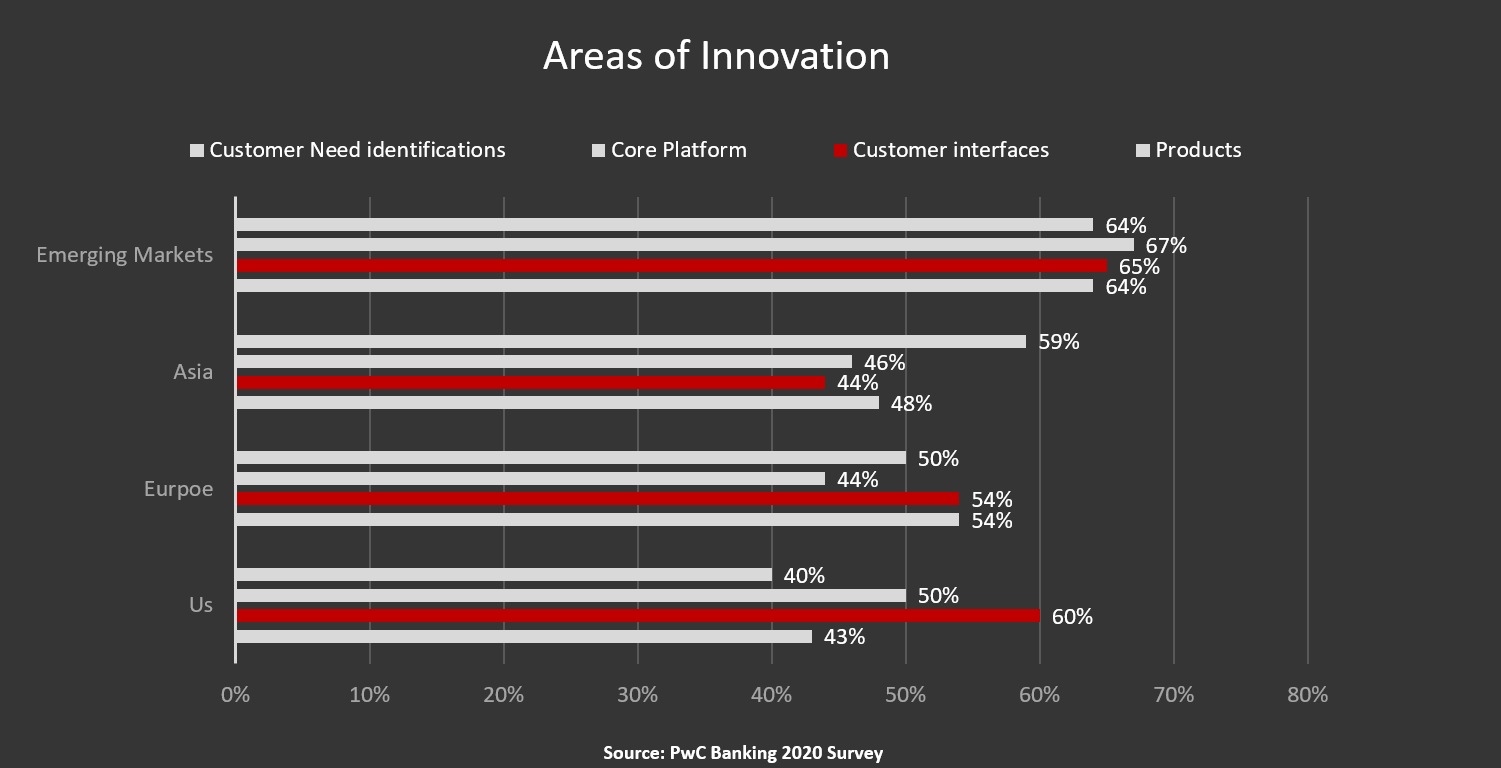 Banking areas requiring significant effort
In order to be ready to compete on a global scale, banks must focus their energy on making significant improvements over the next few years. According to the PwC report, the main areas in need of this effort are as follows:
Enhancing data collection
Evaluation of bank performance metrics and standard practices from the perspective of consumers
Allowing increased level of choice of product configurations including price
Utilizing social media to monitor customer preferences
Conducting customer segmentation using groups dedicated to strategy development
Offering both self-directed and personal interactive channels to customers
Creating an agile portfolio adjusted to customer segment
Creating an executive level Customer Strategy Officer position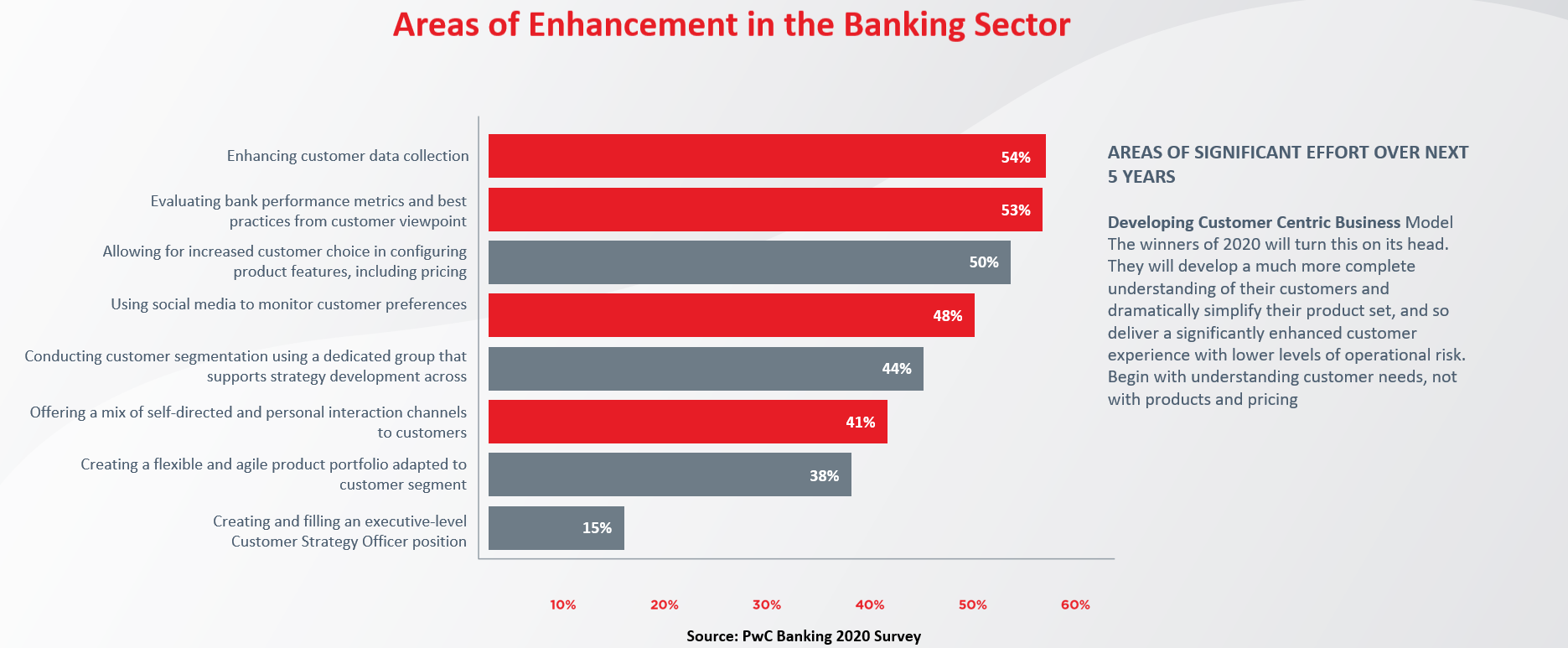 In other words, present banking models must become far more customer-centric in order to remain competitive in the coming years. While the average bank offers highly complex products while having a minor understanding of their customers, by 2020 most banks will need to switch to a model that puts the needs of the customer first.
Recipe for success
No matter what market one may be banking in, experts have already identified the top 6 priorities banks need to focus on in order to win. They are as follows:
Development of a customer-centric business model.
Optimizing distribution. Simplification of business and operating models.
Creating an information advantage.
Enabling creativity, and the capacity required to foster it.
Proactive management of risks, regulations, and capital.
Nevertheless, experts have also observed that there is a significant gap between the level of importance of these items (46%-64%) in relation to the overall level of preparedness banks have to deal with these issues (11%-17%). Therefore, there is significant work to be done before the average bank is truly prepared to succeed.
Overall, for banking systems everywhere, innovation is the name of the game. Although the antiquated model seems to favor banks that are reputable and more established, the future of banking belongs to those who can innovate and keep up with the needs of customers.
Read Now: Reducing the Hidden Costs of SMS: Bleaching Grey Routes