CEQUENS VP Global Marketing Yara Milbes wins Internet 2.0 Outstanding Leadership award
By CEQUENS Media Office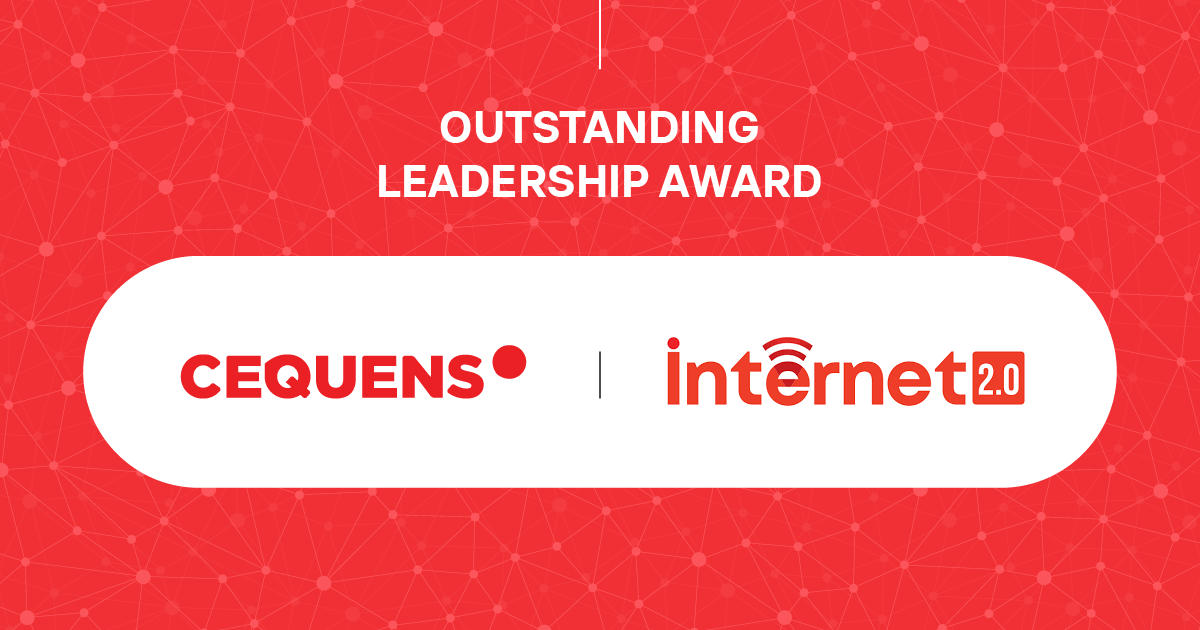 Dubai, United Arab Emirates, December 17, 2022 — Leading communication solution provider CEQUENS is thrilled to announce that our VP Global Marketing Yara Milbes has been announced as the winner of the covetable Internet 2.0 Outstanding Leadership Award.
Chosen among 450+ nominees, the Internet 2.0 Outstanding Leadership Award celebrates leaders globally who have been forerunners in harnessing the power of technology to drive positive change. Commenting on the award, Yara shared, "This is a remarkable recognition. As a leader, I do everything in my power to constantly enable and empower my team to thrive, identifying what it takes for them to display full commitment to showing up and working with integrity. This award goes to show that when teams come together for a greater vision, anything is possible."
Yara is a multiple award-winning marketing leader with a solid business development, brand and growth marketing, as well as PR and communications background. Yara has more than 15 years of experience in B2B and B2G marketing in Telecommunications and Information Technology sectors. In her role as CEQUENS VP Global Marketing, Yara brings a wealth of regional knowledge along with her exceptional analytical, operational, and managerial skills.
Internet 2.0 Conference and Awards Ceremony is taking place at the InterContinental, Dubai Festival City, UAE from 16th - 18th December 2022.
---
About CEQUENS

CEQUENS is a multi-award-winning communication solutions provider. We are on a mission to simplify customer engagement through our innovation-focused solutions engineered for customer-first organizations.  
We support businesses with multichannel communication solutions and reliable business APIs such as SMS, WhatsApp for business, voice, and verification. Our product suite aims to solve our customers' unique problems and cultivate deeper human connections between businesses and individuals in every market we play. 
With 5 office locations and 128+ direct network connections, CEQUENS empowers more than 1000 businesses in over 107 countries with faster, better, and stronger communication fine-tuned to their industries. Our platform boasts a 99.96% uptime and is built on industry-leading security standards. 
CEQUENS is an ISO-certified and a PCI DSS compliant company. It is also recognized as a Meta Business Partner as well as a value-added service provider for Microsoft Teams Phone and WhatsApp Business. Our vision is to become the most compelling partner for developers, startups, and enterprises looking for simple and meaningful ways to connect. 
The company is headed by CEO Karim Khorshed and Chief Research & Innovation Officer Ahmed Shabrawy.
Recognitions and Awards
Best Communications Platform – MENA, International Business Magazine, 2022

Best Communications Solutions Provider of the Year, Tahawultech.com Future Enterprise Awards, 2022

Best Communications Platform – Egypt, Business Tabloid Magazine, 2022

Most Innovative Communication Platform, International Finance Magazine Technology Awards, 2020

Excellence in Messaging Partner, FINSEC Awards, 2018

GSMA Associate Member

ISO 27001, 27017, and 27018 Certified

PCI DSS Compliant

Endeavour Entrepreneur

About Internet 2.0

The Internet 2.0 Conference unites leaders and experts who are spearheading growth in the realms of IT, cloud computing, machine learning, artificial intelligence, robotics, blockchain, e-commerce, and more.
Their mission is to promote shared learning and speed up development in these areas by encouraging the mutual exchange of ideas. By bringing together some of the most esteemed voices in the industry, the event aims to find creative as well as commercially viable tech-based solutions to the real-world problems of today.