CEQUENS Announced as Winner of the "Best Communications Solutions Provider of the Year" Award for the Prestigious Tahawultech.com Future Enterprise Awards 2022
By CEQUENS Media Office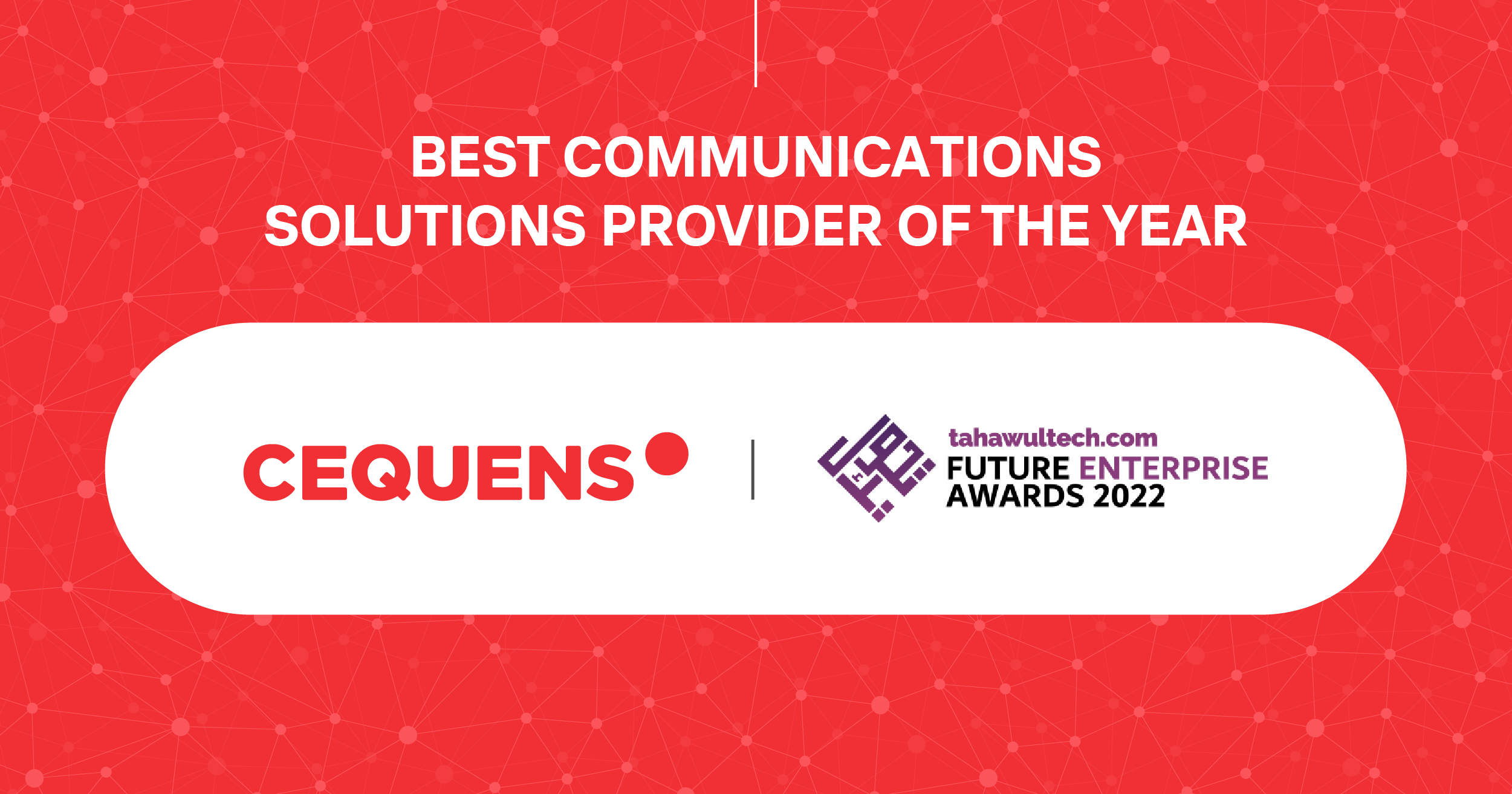 Dubai, October 11th: The leading multi-channel communication solutions provider, CEQUENS was recently announced as the winner of the "Best Communications Solutions Provider of the Year" award for this year's prestigious Tahawultech.com Future Enterprise Awards 2022.
Commenting on the award, Haroon Riaz, CEQUENS Director of Enterprise Solutions, UAE, shared, "This is truly an exciting time for CEQUENS. As we continue to grow and to expand into new markets, being recognized for our tireless work to build deeper human connections is a true testament to what we aim to accomplish for entities and clients through our solutions."
The awards ceremony paid homage to the companies and individuals from the IT ecosystem in the Middle East that have demonstrated phenomenal excellence in the field of IT and Technology.
The Future Enterprise Awards 2022 event celebrated the enterprises and IT leaders that have pioneered groundbreaking solutions, leveraged disruptive technologies to transform the business operations of their customers, and helped cultivate an environment which has allowed innovation, creativity, and entrepreneurship to flourish.
The awards ceremony took place on Monday, 10th October, 2022 at Jumeirah Mina A'Salam, Madinat Jumeirah, Dubai.
About CEQUENS:
Powered by innovation CEQUENS is a multi-channel communication solutions provider that enables governments, enterprises, and developers to communicate with their customer base worldwide.
Offering a slew of cutting-edge, highly integrable multi-channel, CPaaS solutions and APIs, including SMS, WhatsApp Business API, Google RCS, Apple Business Chat, Web Widget, MS Teams Phone, Instagram Messaging, and Facebook Messenger, as well as a SaaS suite for user authentication, multi-chat engagement, and campaign management, CEQUENS empowers businesses across the board to redefine the customer journey.
With over a decade of experience, and celebrated as industry leaders in several continents, CEQUENS has helped 1000+ businesses around the world transform the way they do business in over 100 countries, across 900+ route alternatives, with its award-winning business solutions.
Lead by CEO Karim Khorshed and Chief Research & Innovation Officer Ahmed Shabrawy, CEQUENS currently boasts a team of over 200 employees working in the company's global network of offices located in Cairo, Dubai (HQ), Riyadh, London, Casablanca, and Islamabad.
Recognitions and Awards:
CEQUENS named as "Best Communications Solutions Provider of the Year", Tahawultech.com Future Enterprise Awards 2022
CEQUENS named as "Best Communications Platform – Egypt 2022", Business Tabloid Magazine, 2022
CEQUENS named as "Most Innovative Communication Platform", International Finance Magazine Technology Awards, 2020
CEQUENS named as the winner of the "Excellence in Messaging Partner", FINSEC 2018 Awards
GSMA Associate Member
ISO

27001

Certified

PCI-DSS Certified

Endeavour Entrepreneur
About Tahawultech:
TahawulTech is the definitive platform in the Middle East for IT content. Covering stories across enterprise technology, cybersecurity and the region's IT channel industry, TahawulTech brings business leaders and technology decision makers together to share their stories of transformation.