CEQUENS Announced as Winner of the "Best Communications Platform – Egypt 2022" Award
By CEQUENS Media Office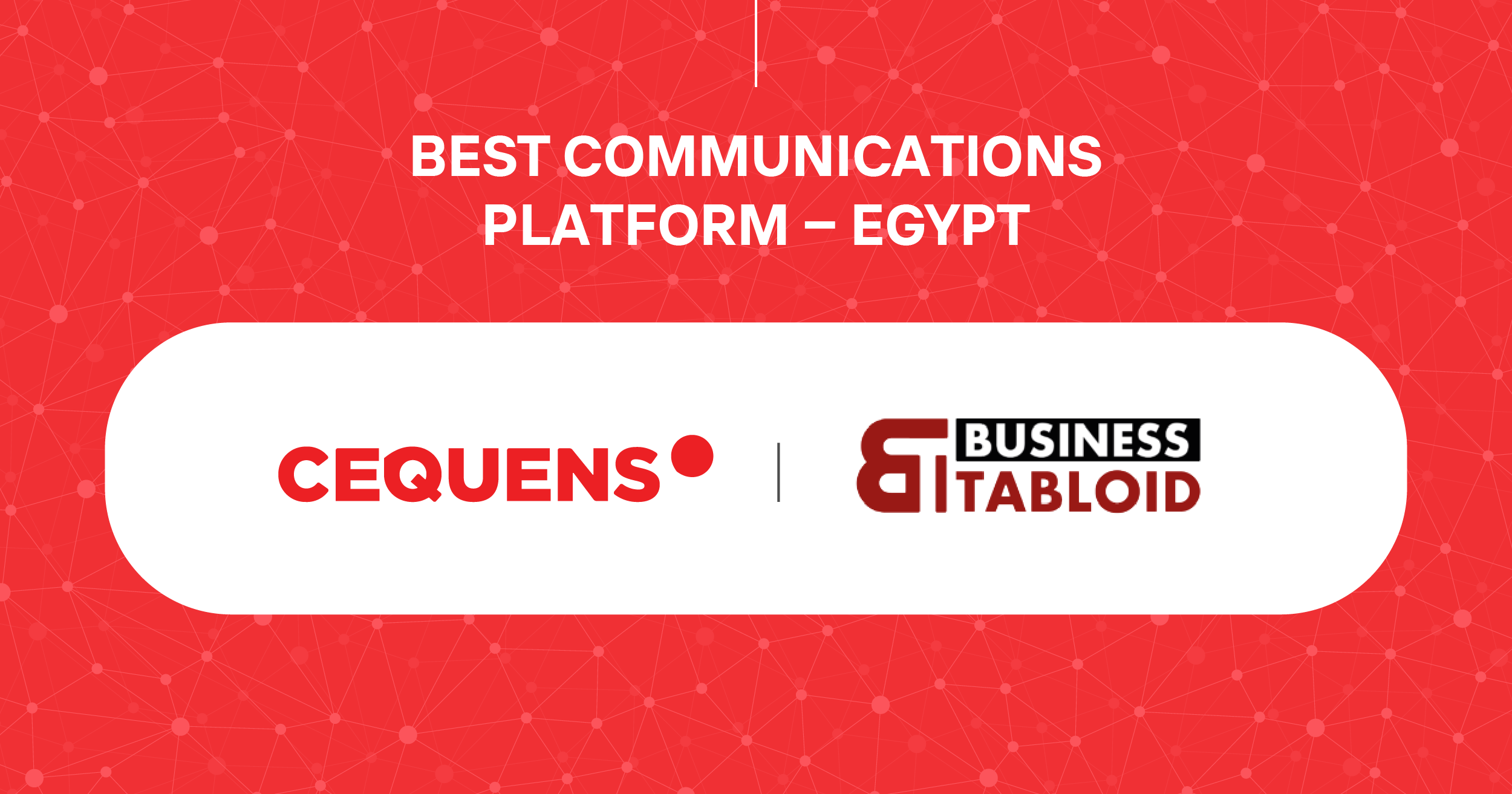 The leading multi-channel CPaaS solutions and APIs service provider, CEQUENS was recently announced as the winner of the prestigious award "Best Communications Platform – Egypt 2022" by Business Tabloid.

With Business Tabloid Publications being founded in 2018, BT debuted the Annual Business Awards in 2019, a year after its incorporation. The Annual Business Tabloid Awards honors companies that strive to establish the finest organizational culture in their domestic and international economies. This initiative highlights the honorees' commitment and reliability. Each of the nominees goes through a thorough vetting process, and the results are purely based on merit. The primary objective of the awards is to foster and encourage business commitment to the cause and to recognize and reward the world's most influential businesses and leaders.

On the occasion of winning the award, Yara Milbes CEQUENS VP Marketing shared, "We are thrilled to have won the Business Tabloid Award for Best Communications Platform – Egypt. the credit goes to our amazing CEQUENS team who are working relentlessly to deliver premium CX solutions that have successfully helped us secure this award. This is just the beginning as we plan to elevate the CPaaS playing field and deliver exceptional CX to all who work with us."

This year's winners alongside CEQUENS include leading brands such as IBM, Acumatica, ACI Worldwide Republic, Yalla Group, and Fawry.

The 4th Annual Business Awards ceremony will be held in January 2023 in Atlantis, The Palm, Dubai, UAE. For more information, please click here.
About CEQUENS
Powered by innovation and guided by a cloud-first and mobile-first approach, CEQUENS is a global cloud communication service provider that enables governments, enterprises, and developers to communicate with their customer base worldwide.

CEQUENS offers a slew of cutting-edge, highly integrable multi-channel CPaaS solutions and APIs. CEQUENS solutions include SMS, WhatsApp Business API, Google RCS, Apple Business Chat, Web Widget, MS Teams Phone, Instagram Messaging, and Facebook Messenger, as well as a SaaS suite for user authentication, multi-channel engagement, and campaign management. CEQUENS empowers businesses across the board to redefine the customer journey.

With over a decade of experience and recognition as industry leaders on several continents, CEQUENS has helped 1000+ businesses around the world transform the way they do business in over 100 countries with its award-winning business solutions.

Led by CEO Karim Khorshed and Chief Research & Innovation Officer Ahmed Shabrawy, CEQUENS currently boasts a team of over 200 employees working in the company's global network of offices located in Cairo, Dubai (HQ), Riyadh, London, Casablanca, and Islamabad.


Recognitions and Awards
CEQUENS named as "Best Communications Platform – Egypt 2022", Business Tabloid Magazine, 2022.
CEQUENS named as "Most Innovative Communication Platform", International Finance Magazine Technology Awards, 2020
CEQUENS was named the winner of the "Excellence in Messaging Partner", FINSEC 2018 Awards.
GSMA Associate Member.
ISO 27001 Certified.
PCI-DSS Certified.
Endeavour Entrepreneur.
About
Business

Tabloid

Business Tabloid (BT) is a global media publication focused on bringing the fast-paced generation looking for encapsulated, accurate, and informative content the best insights from the world of business. The magazine has a strong presence online, and its network of dedicated journalists worldwide brings the latest news from business, technology, banking, finance, insurance, brokerage, healthcare, energy, logistics, telecom, education, and real estate.