CEQUENS Journey
Power of the Dot: CEQUENS's brand story and what it means for us
By CEQUENS Team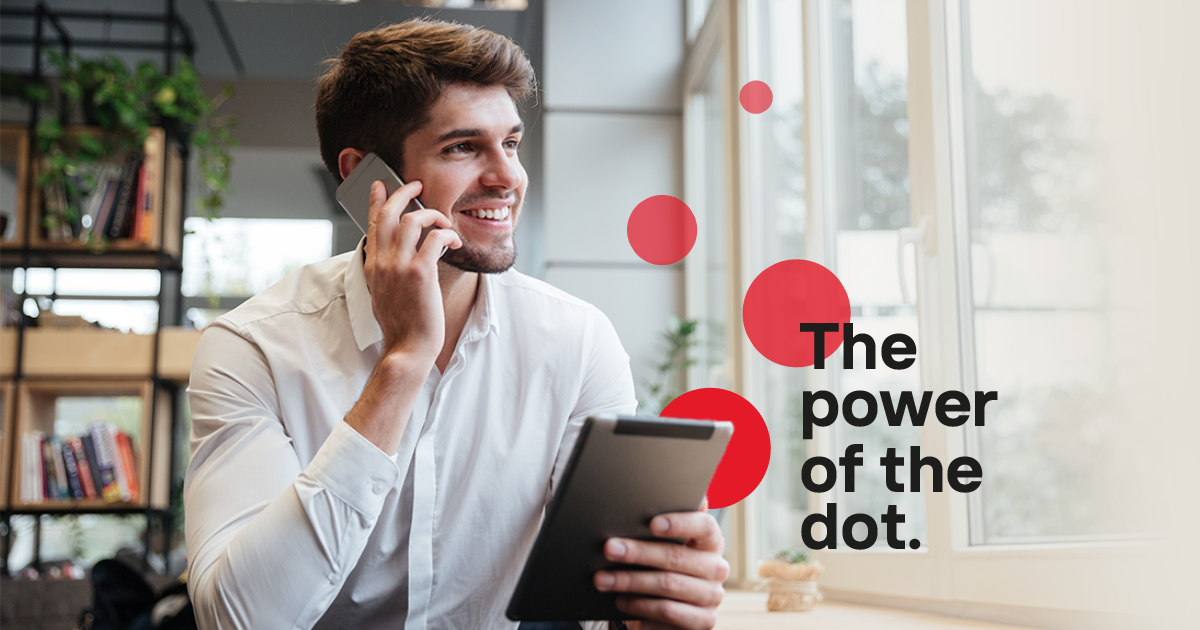 The beauty of being a globally recognized brand is the challenge of maintaining a unique, steadfast identity. Our brand identity extends beyond how the brand looks; it's how the brand operates to serve millions of customers worldwide. For the past few months, we have been on a challenge to give our brand the upgrade it deserves, following minor updates over the years since our inception in 2011. We are ready to share these upgrades with the world today as we go into our 13th year, and we couldn't be more excited.
Simplifying your communications for more than a decade
Originally founded as an SMS aggregator, CEQUENS has grown to become one of the leading CPaaS providers around the world. We are also on our way to becoming a full-fledged SaaS partner to all our customers with special focus on:
Communication APIs: An extensive library of programmable conversational APIs such as SMS, WhatsApp, Voice, and others.
Connectivity: Diverse solutions that are practical and cost-cutting built on a solid structure of industry partnerships connecting you to the world.
Applications: Simple purpose-built solutions that replace outdated systems with intuitive interfaces for marketing, customer engagement, and customer support.
CEQUENS currently has boots on the ground in Egypt, Pakistan, Saudi Arabia, United Arab Emirates, and some more. Our amazing team members empower partnerships and help us deliver global excellence.
What CEQUENS offers
In a nutshell, we build innovative communication solutions that connect humans together and simplify customer engagement. We offer simple and meaningful ways to connect. What we'd like to do is help businesses of all types and sizes create an empathic, personalized, and accessible customer experience – all through communication.
When the first fire was lit, people thought it was magic. When the first stone tool was invented, people said it was wizardry. When the first wheel was made, people called it witchcraft. Flash forward centuries and centuries, these solutions are still being used every single day, by billions of people, in every nook and cranny of the world. Why? Because they make our lives easier – simpler – even in this moment right now as you're reading this. They take a complicated process simplify it. CEQUENS shares that same goal.
Forget global domination or space exploration, CEQUENS was born from a deeply personal desire to simplify people's lives and set technology on one course: to deepen human connections. How? By harnessing innovations in the tech world into usable, customizable solutions for everyone. That means you, your customers, their customers, your coworkers, your family – even your grandmother who still sends a text one letter at a time. With the constant bombardment of new innovations, elevations, and complications in the tech world, CEQUENS is here to clear the fog and filter what matters for our customers. We go deeper so that you and your network can too. Because deeper human connections? That's where the magic is.
Achieving brand dominance in today's world
While there may be other companies whose mission revolves around connection, we have a different edge. CEQUENS is on a mission to be innovation-focused and engineering-driven solution architects solving unique problems in every market we play. We aim to simplify customer engagement for customer-first organizations. We won't stop until we are the most compelling partner for developers, startups, and enterprises looking for simple and meaningful ways to connect.
Our customers' digital interactions are what matters to us. Every touchpoint is an opportunity to win over a customer and reflect their brands. Every exchange is a unique chance to offer a delightful experience. Every little thing customers see, feel, or buy can build an enduring relationship – rooted in communication. This is what drives our progress. This is how our customers flourish. This is why communities are formed, people are affected, and lives are touched. From sounds, symbols, and spoken language, shared experiences are born. This is what connects humans, and we believe it is the way forward.
"Why now?" you may ask. We believe in practicing what we preach. Since we introduced our five-year expansion plan, we have been fitting different pieces to a puzzle together to grow fiercely and achieve our targets. This includes scrutinizing how we perceive ourselves and how we want to be perceived. Right now is always the perfect time to execute a project this important, as it will define us for years on end.
Power of the Dot
The main visual element in our brand refresh is something we call The Power Dot. It's this little red dot you see in our logo and different designs. Our Power Dot embodies the CEQUENS spirit. We are bold, energetic, and unwavering in our commitment to simplified solutions and deeper human connections. Like the circular shape of The Power Dot, there is no beginning or end to the connections we seek. Since it is the perfect representation of all things CEQUENS, The Power Dot takes center stage in our visual communication. From it, we can create various shapes to use in our communication.
The Power Dot encapsulates the very essence of our brand.
It is also a part of our bigger brand promise. The Dot is our signature on every contract, a bond that cannot be broken, and a vow we swear to uphold. We believe all things digital should be all-inclusive. That's why we build smarter products that help you know your customer and provide valuable, end-to-end experiences. Everything under our brand is primarily meant to improve communication with the highest security at lower costs.
This custom-fit technology paired with a lightning speed network enables big brands such as Google, Aramex, IKEA, and Telegram (to name a few) to fulfill their needs of marketing communications, customer support, intelligent engagement, and digital authentication.
Our brand promise
As we stated earlier, the brand we are presenting is more than a set of enhanced illustrations and making good visual impressions. It's about the uniqueness of the brand. Consistent visual communication is one thing, and cohesive, recognizable quality is another. We promise to simplify customer engagement for customer-first organizations. As such, below are our new mission and vision statements:
Mission: To be innovation-focused and engineering-driven solution architects solving unique problems in every market we play.
Vision: To become the most compelling partner for developers, startups, and enterprises looking for simple and meaningful ways to connect.
Empowering our 200+ employees worldwide
With this new brand update comes a promise to all our employees as well. In every city we operate, CEQUENS hires the top talents in their respective fields and ensures that everyone is well cared for. Since 2020, CEQUENS has been a remote-first employer and we are growing exponentially in every team. If you're reading this, let a friend know we're hiring!
We have also updated our brand values to make sure they are reflected within every position and in every task. Our new brand values are as follows:
Integrity: We build trust through responsible actions and honest relationships.
Excellence: We commit to being and to delivering the best.
Focus: We deliver value by making wise and prudent decisions.
Empowerment: We encourage, equip, and enable each other to unleash the best in each of us.
Impact: We deliver seamless experiences that help people make deeper, more meaningful connections.
We are confident that our brand story will manifest a high level of dedication from our team and achieve desired results for our customers. We are glad to share this journey with you all.
---
CEQUENS is a multi-award-winning communication solutions provider. We are on a mission to simplify customer engagement through our innovation-focused solutions engineered for customer-first organizations.
We support businesses with communication APIs, multichannel applications and connectivity solutions such as SMS, WhatsApp Business, voice, and multifactor authentication. Our product suite aims to solve our customers' unique problems and cultivate deeper human connections between businesses and individuals in every market we play.
With 5 office locations and 128+ direct network connections, CEQUENS empowers more than 1000 businesses in over 107 countries with faster, better, and stronger communication fine-tuned to their industries. Our platform boasts a 99.96% uptime and is built on industry-leading security standards.
CEQUENS is an ISO-certified and a PCI DSS compliant company. It is also recognized as a Meta Business Partner as well as a value-added service provider for Microsoft Teams Phone and WhatsApp Business. Our vision is to become the most compelling partner for developers, startups, and enterprises looking for simple and meaningful ways to connect.
The company is headed by CEO Karim Khorshed and Chief Research & Innovation Officer Ahmed Shabrawy.
Recognitions and Awards
Outstanding Leadership Award, Internet 2.0, 2022
Best Communications Platform – MENA, International Business Magazine, 2022
Best Communications Solutions Provider of the Year, Tahawultech.com Future Enterprise Awards, 2022
Best Communications Platform – Egypt, Business Tabloid Magazine, 2022
Most Innovative Communication Platform, International Finance Magazine Technology Awards, 2020
Excellence in Messaging Partner, FINSEC Awards, 2018
GSMA Associate Member
ISO 27001, 27017, and 27018 Certified
PCI DSS Compliant
Endeavour Entrepreneur