RCS
All you need to know about RCS messaging
By CEQUENS Team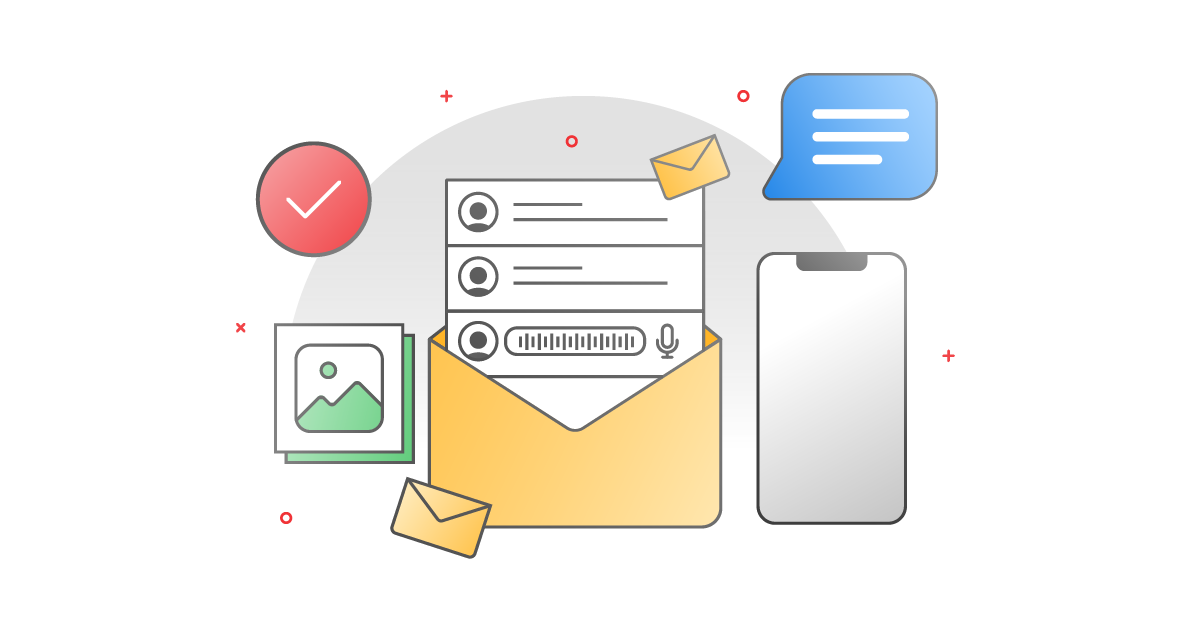 Rich Communication Services (RCS) is the next generation of Short Message Service (SMS). It is a form of text messaging that includes a host of interactive and enhanced features similar to those found in dedicated apps such as WhatsApp and iMessage. RCS is no gimmick: it opens up a range of genuinely valuable opportunities for businesses to communicate with customers more effectively.
Back to the basics
RCS is a communication protocol for cellphones and carriers. Basically, it is an improved successor to the way SMS allows text messaging between different devices running on different carrier networks. It works over cellular data networks.
For RCS to work, the protocol must be supported by the sender's device, the recipient's device, and the carrier.
How did RCS emerge?
RCS is a long-term project of the GSM Association, the main cellphone industry body. While some manufacturers began using the protocol in the early 2010s, the current specification known as the Universal Profile first appeared in 2016.
Google's support has arguably been the key to RCS becoming better established. For example, the default Messages app on Android handsets, which handles SMS messaging, supports RCS. Originally, this support was limited in practice as it relied partially on support from carriers that wasn't always in place.
In 2019, Google switched its approach so that its servers handled the RCS element of messages sent through the app. That prompted major carriers in the United States to work together on interoperability. In principle, most Android users around the world now should either have access to RCS or can reasonably expect it will be available in the coming years.
Although Samsung handsets have their own default messaging app, they also support RCS. Apple devices, on the other hand, do not yet support RCS although their iMessage app has many similar features.
Key features of RCS
RCS removes many of the restrictions of SMS. It has no limit on message size, allows full multimedia integration, makes group chats possible, and supports read receipts. It also shows typing bubbles making the experience closer to a live chat than SMS's exchange of messages.
Business opportunities
With many new or improved technologies, businesses must look through the capabilities and try to figure out a way to use them. This isn't the case with RCS — many of its features are solutions to existing problems and requirements that businesses have for serving customers.
Many businesses already offer chat and support services to customers through "rich" messaging applications such as WhatsApp because of the benefits they have over SMS. The big drawback is that this relies on customers already having the app in question or being willing to install it simply to communicate with a business. Using RCS dramatically increases the potential audience because almost every customer will not only have a compatible messaging app, but already be familiar and comfortable with it, regardless of how tech-savvy they are.
Some of the features in RCS include:
a) Location
RCS supports location sharing, which can benefit businesses in both directions. It becomes easier to share details such as nearby branches or events. It also makes it simpler for customers to provide accurate location details, particularly when away from home — for example, when arranging to hire a private vehicle.
b) Read receipts
Businesses will know exactly which messages have been received and read. This could have legal benefits in proving somebody received a demand or instruction. It could also make it easier to track the success of marketing messages, both in terms of measuring what proportion of messages are read and establishing an accurate baseline then to measure response rates.
c) Multimedia
Support of audio, video, and images means RCS is valuable for customer support. For example, a utility customer can send a photograph of a supply meter's serial number and usage reading without the risk of typing errors. Businesses can send images of staff who will be visiting a vulnerable customer's home, building trust.
d) Sender verification
RCS allows bodies such as cellphone carriers to act as a verification authority with the ability to check a business's identity. They can then issue a verification mark such as a check mark that will appear beside the name and any logo of the business when it uses RCS. This not only builds trust for legitimate businesses, but reduces the risk of scammers defrauding potential customers.
e) Payments
As RCS supports web links, it already makes it possible to replicate the payment opportunities of email: that is, by including a link to a secure online payment portal, potentially with some pre-filled details about the purchase.
The GSMA is working on long-term solutions to securely build payment facilities directly into the RCS protocol itself. Naturally, this will require both technological capabilities and credibility among potential users before it can become viable.
Conclusion
RCS is no gimmick. It turns text messaging into a powerful tool for businesses to better serve customers. The widespread availability on Android devices will make it part of everyday use for billions of people. It will reach those users unable or unwilling to install dedicated third-party messaging apps.
---
About CEQUENS
We're a Communication Platform as a Service (CPaaS) provider. Our mission is to bridge communication gaps in a communication-driven world.
Born in the digital era, CEQUENS was founded in response to the increasing challenges facing enterprise communication. We started as an SMS aggregator and gradually crafted a path toward omnichannel CPaaS solutions.
For 10 years, our innovation has empowered thousands of businesses create and deliver communication experiences finetuned to their industries. Our cloud-based, PCI/DSS compliant Communication Platform is the award-winning, end-to-end solution helping businesses realize their full potential and go digital.
As an Endeavor member and industry player, CEQUENS plays a pivotal role in transforming business communication worldwide.