Remembering Ashraf Samy, CEQUENS Chief Corporate Officer
By Heba Eid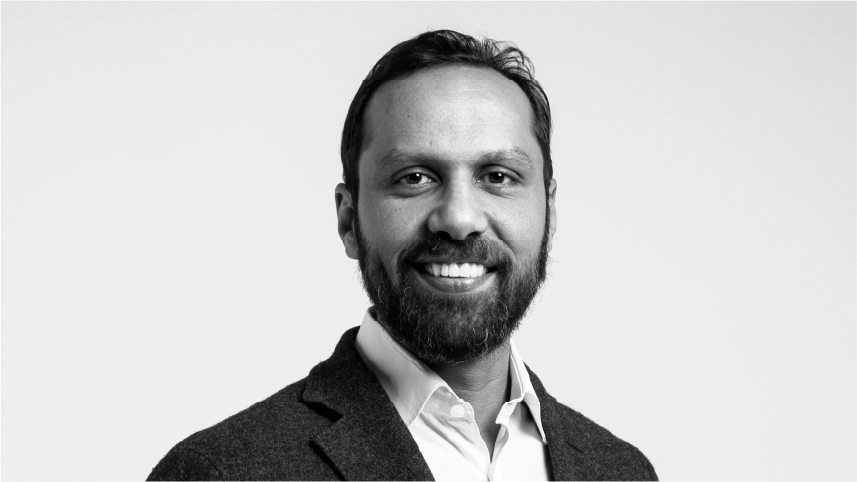 This month, CEQUENS lost a very dear member of its family, Ashraf Samy, Chief Corporate Officer (CCO), in a horrific car accident during the holy month of Ramadan. As a close-knit community of colleagues and employees, we are all reeling from the suddenness of it all and the tragic loss of one of the company's leadership team.
As the CCO, he directly managed the People Operations Department, Financial Department, and Information Technology (IT) department. He had a vision of how to help CEQUENS safely hyper-scale and how to propel the company forward and help it grow. He firmly believed in CEQUENS corporate social responsibility and had big plans to help the struggling community amidst the COVID pandemic.
Samy joined CEQUENS with more than 20 years of experience in organization excellence, financial sustainability, quality assurance, and digital transformation within multinational and regional companies, including Vodafone, Vezeeta, Motorola, and Abbot Laboratories, among many others.
He leaves behind a young daughter, son, and family who loves him.
Paying Tribute to a Leader and Colleague

Karim Khorshed, CEO and Founder
"Ashraf was a bright, ambitious, vivacious young man, one who had big plans for CEQUENS and was so excited to take on this role. Despite his brief tenure here, he has taken solid steps with each and every department across the organization as CCO. I personally mourn not only the loss of a colleague but the loss of a friend as well."
Wael Ali, Chief Commercial Officer
"I have known Ashraf for a few years, but we became very close friends and trusting partners, and I give it to him that he was an honest, caring, and true companion that is rarely repeated in one's lifetime. He was a knowledgeable and sharing colleague, a visionary and great orator and talker, someone who can capture the attention of anyone in the room with his words and unchallenged logic. I will dearly miss him as a brother, friend, and colleague. Our only comfort that we believe he is in a better place; may his soul rest in peace."
Hania Tolba, VP Global Accounts and Partnerships
"I learned from Ashraf the meaning of being humane and humble. He left an impact on each person he came across. His passion about everything he does showed in all his actions, from work to his love of his kids, animals, and above all the care he gave to everybody, especially in the hard times we all live in. He was a good listener, even if what was spoken was nonsense, and compassionate – a unique human being. His legacy, as we used to joke, is the changes he wanted to make in CEQUENS, making it a multi-billion-dollar company. Ashraf, Wael Ali, and I came up with our motto for the next five years, "CEQUENS to the Power and by the Power of People." I do not only mourn a colleague and a friend; I mourn a fine human being."
Mohamed Dash, General Counsel
"This day is a hard one for us all. Ashraf was a hard-working, intelligent, caring, and very thoughtful person; a strong person through and through, from character, personality, and presence. Goodbye, my friend. We will all miss you a lot. Thank you for everything."
Mostafa Abdelkader, Service Support Manager
"I got to know Ashraf for a short time, yet it was easy to feel his ambitious plans and its impact on CEQUENS. His welcoming and caring character clearly explains his amazing perspective of life. I am one of those who believes that no one dies, as their words, wisdom, knowledge, and in Ashraf's case, a great sense of humor, will always live with us. You will always be remembered."
Mai Kamal, People Operations Assistant
"Ashraf was my manager for a short period, however, it seemed like we've worked together for a very long time as we understood each other very well. On the work side, Ashraf is a one in a lifetime manager who encourages, teaches, supports, and believes in his employees.
He was a compassionate and understanding manager, he stood by me. He believed in me like nobody else, and I will always be grateful for him and will never forget his kindness and generosity. On a personal scale, Ashraf was a positive, humble, and ambitious person. It is with a heavy heart that I accept his death; the feeling is that he's in a better place makes it somewhat easier. May his soul rest in peace."
Zeinab Shaker, Head, Technical Consulting
"I've known him for a short time. He was such an enthusiastic man with a strong passion and vivid existence that you could feel all over the place, all wrapped in a kind smile. Hearing the sad news left me in a complete shock, until this very moment, but seeing how this man was loved, respected, prayed for and will be remembered by lots of people got me to recognize how he carried quite a precious and unique soul that eventually didn't belong here and is now in a much better place. . May your soul rest in peace."
Raghda Nabil, Senior Accountant
"I am very proud to work with someone like Ashraf, even though it was for a short period of time, but he managed to leave an impression on all of us on a personal level and positively impact CEQUENS.
He was sincere and committed to his work. I remember when he wanted to console and reassure us during the COVID circumstances saying, 'We are now stable and better than many companies. We will work despite everything, and if all companies will fall and fail, we would like to be the last standing one.' Hearing about his passing deeply saddened me, but I am pretty sure he's in a better place now. Rest in Peace"
Mohamed Ebeid, Senior Accountant
"When I think of it, I remember the tale as a very short dream. He was a very ambitious man, had a clear vision, and plans. He gave every employee in his team the space to work and shows his potential. It was an honor for me to work with Ashraf. We all feel your loss, but we console ourselves that your soul lives in peace."
Mohamed Mostafa, Accounting Manager
At first, I couldn't believe that there is someone who can lead 3 different departments at the same time - until I worked with Ashraf. I found that he cares about all the departments in CEQUENS, not just the 3 departments he manages. He was a friend and a great leader. He inspired me and taught me many things. I will definitely miss him. May his soul rest in peace.
Sara Hamdy, HR Business Partner
"You were exceptional in so many ways and on so many levels. My time with you was and always will be a significant part of my life as I gained a lot of knowledge and skills. You helped me develop a lot and now you're gone, too soon. Certainly, the precious memories of you will remain in our hearts. I was shocked by this terrible news, and I send my condolences to his kids and all of his family."
Sara Youssry, HR Business Partner
"I have known and worked with Ashraf for a short period of time, it was a time that left a huge impact on me personally. He was ambitious, always reaching for the stars , a visionary, so to speak. He taught us a lot; taught us how to put the people that we serve as the priority and how the little details matter (which sometimes drove us crazy :) ). He often spoke of his love for your role at the company and how you loved coming to office. We have fond memories of our work together to remember you by and all I can do now is send you prayers. May you rest in peace, Ashraf."
Noha Abdeltawab, Digital Marketing Lead
"Ashraf was one of the sharpest people I've met. His friendly demeanor was unmatchable. He certainly left an impact on me when we started working together. I will never forget how bright and insightful he was. He was a great listener. May Allah grant you Paradise, Ashraf. Till we meet again."
Tamer Sherif, Lead System Engineer
"Ashraf was a very ambitious, professional, and friendly person and had big plans for CEQUENS. He was a true leader, although he was only four months at CEQUENS but you can obviously see his touches on all departments that he was leading. It was an honor working with him. May you rest in peace, Ashraf."
Keeping His Legacy Alive Through Good Deeds
Ashraf was a leader, friend, and mentor to many across the company and for many organizations. In his loving memory, a fundraising initiative was created to collect donations in his name for specialized newborn baby incubators at Ahl Masr Hospital in Egypt. Everyone expressed their interest to contribute the moment they heard the news.
May this good deed grant you peace and tranquility. You'll be surely missed.
Rest in peace, Ashraf.
---
About
CEQUENS
We're a leading Communication Platform as a Service (CPaaS) provider in the Middle East and Africa (MEA) region that aims to bridge communication gaps in a communication-driven world.
Powered by innovation and guided by a Cloud-First and Mobile-First approach, we provide omnichannel communication services and APIs that enable enterprises and developers to communicate with their customer base worldwide.
As an Endeavor Entrepreneur and GSMA Associate Member and ISO-Certified company, CEQUENS plays a pivotal role in transforming business communication in the region.
CEQUENS proprietary, PCI/DSS compliant Communication Platform leverages the latest cloud technologies and features a comprehensive portfolio of services that are industry-focused, agile, scalable, and cost-effective.
For more CEQUENS News